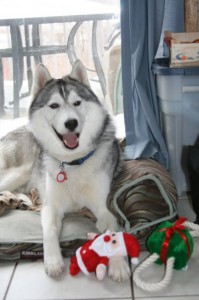 Storm/ aka Stormy
HAPPY ENDING: Home, Safe n' Sound!! Yeah!! From the Owner: "Our dog has been found. He finally made it back up to our street and a neighbour, after seeing the Lost Dog posting, brought him back to us! We are so grateful to Marilyn for that!!"  (1.4.13 – 1.4.13)
Breed or Mix: Siberian Husky
Sex: Male, Age: 6 years old
Collar/Tags: Silver & grey. Has a cloth Martingale collar and a metal chain collar. Has a star shaped tag with his name & our phone number engraved on it.
Lost on: 01/04/2013
Area: near Yarmouth Superstore,, Charles Crosby Drive, Yarmouth, NS
Additional Notes: He is friendly but may growl if playing around. He has grey /silver & white fur. he has brown eyes and a slight "mask" between his eyes. He is about 65 lbs. He escaped from our house near Yarmouth Superstore, near Charles Crosby Drive. He was last seen near Kent Building Supplies, & perhaps heading for the 101 Hwy. He was also seen at Subway, Ascencion Pet store & Shell gas station. He has been gone since around 11:30am this morning, Jan 4/13. He is very friendly & will usually go to anyone who calls him or invites him in their vehicle or house. Please call us (# on the tag) & ask for … if you find him. He is a dear, well loved pet & his companion, our other dog, Sadie, misses him.
Please Contact: …