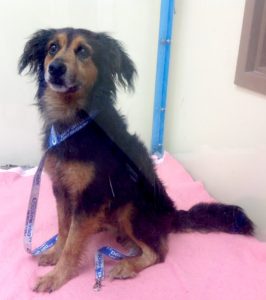 Unknown
HAPPY ENDING: Home, Safe n'Sound!! Yeah!! From his new found friends: "This handsome guy has been reunited with his owners! Thank you for helping him to get home!!" Wonderful news! Thanks to all who cared and shared! Yippee!!
Breed or Mix: Spaniel/Collie mix
Sex: Male, Age: Adult
Collar/Tags: No tags, tattoos, or microchip
Found on: 07/13/2017
Area:  Wellington, Halifax, NS
Additional Notes: Male, no tags, collar, microchip or tattoo. Found roaming at large.
Please Contact: Please cross post and if you have any information contact: Fall River Animal Hospital at 902-861-4003 | After closing the dog will be turned over to Animal Control who can be contacted by dialling 311.