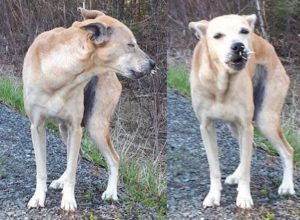 Unknown
HAPPY ENDING: Home, Safe n' Sound! Yeah! This dog is now in care with the Metro Animal Emergency Clinic We thank all that assisted in getting her into safety. And thank you to all who cared and shared her info. (5.12.19 – 5.12.19)
UPDATE: 5.12.19: This dog was contained – and is being transported to Metro Animal Emergency Clinic for treatment. Once a dog is in their care and that of Animal Services we may not be privy as to the status. We are grateful that the finder is taking this dog in to be treated.
Breed or Mix: Shepherd/Labrador Retriever mix
Sex: Female, Age: Older Adult
Collar/Tags: No collar/tags
Sighted on: 05/12/2019
Area: Lower Sackville, Halifax, NS
Additional Notes: FEMALE: Shepherd/ Lab mix (?), adult, not wearing a collar, quills in the face around mouth and nose. Sighted on May 12/19.
NOTE: This dog is frightened and scared.
NOTE: 5.12.19 – This dog is now in the care of Halifax Animal Control Services.
Please Contact: Please cross post and if you have any information contact: HRM Animal Control by dialing 311