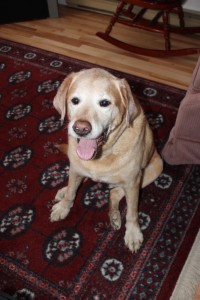 Unknown
HAPPY ENDING: Home;Safe n 'Sound!!  – Buzz is back where he belongs! We thank all that cared to share! (5.9.13-5.10.13)
Breed or Mix: Yellow Labrador Retriever
Sex: Male, Age: Senior
Collar/Tags: Yellow Lab, with white on his face from age. Has a red Rabies tag (Elmsdale Vet, has been called), A blue plastic tag, and the top of a screw tag, bottom is missing. All on a choke chain.
Found on: 05/09/2013
Area: Joshua Street, Enfiled, Halifax, NS
Additional Notes:
Yellow Labrador Retriever, senior with white around his muzzle and face. Has on a coke chain with a red rabies tag (Elmsdale Vet 2008, who has been contacted), also has a blue plastic tag and the top of a screw tag on his collar. A very pleasant old boy, a little stiff in the legs.
Please Contact: …