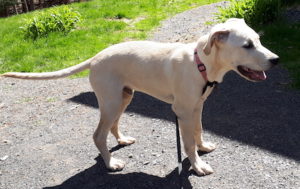 Unknown
UPDATE: 5.9.19: This puppy is now in the care of Municipality of Colchester Animal Control.
Breed or Mix: Labrador Retriever mix
Sex: Male, Age: Puppy
Collar/Tags: No collar/tags
Found on: 05/08/2019
Area: Mosher Rd, Shubenacadie, Hants, NS
Additional Notes: This puppy was found roaming today… male, 4-6 Months old, about 30lbs, Labrador Retriever mix (Husky? AmStaff?).
Please Contact: Please cross post and if you have any information contact: Municipality of Colchester Animal Control at 902-897-3170