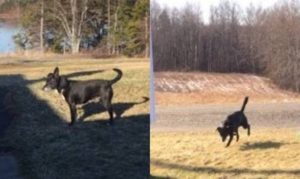 Unknown
HAPPY ENDING: Home, Safe n' Sound! Yeah!! This boy is Shiloh and he did make it back home safely, phew! Lucky boy. Thanks to the people who had kept him safe, until he escaped again. He is about to have nice Tubby to get rid of the evidence of his adventure – mud and manure!! From his very happy family: "Thanks for sharing his info!" YIPPEE! (4.18.19 – 4.20.19)
UPDATE: 4.19.19 – Changed to SIGHTING from Found: While the finder was adjusting a tie out line this dog took the opportunity to 'hit the road'.
Breed or Mix: Shepherd/Husky mix
Sex: Male, Age: Adult
Collar/Tags: Grey collar/no tags
Sighted on: 04/18/2019
Area: Merigomish, Pictou, NS
Additional Notes: MALE: Shepherd/ Husky mix (?), adult, black coat with some white on chest and neck, greying on muzzle, wearing a grey collar, no tags. Found roaming on April 18/19.
Please Contact: …