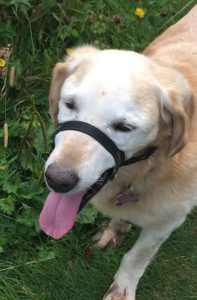 Layla
HAPPY ENDING: Home, Safe n' Sound! Yeah!! From her very happy family: "FOUND!!!! Just now, about a block away from our house! A neighbour happened to spot her! She is well and happy to be home on her bed 😍💓💓" Fantastic news on magical day 6! Love it. Thanks so much to all those who cared and shared her info. YIPPEE!! (3.14.19 – 3.20.19)
Breed or Mix: Labrador Retriver mix (Yellow)
Sex: Female, Age: Senior
Collar/Tags: Pinkcollar with Anchor motif/name tag plus Orange e-fence collar/Halti head halter with red leash attached.
Lost on: 03/14/2019
Area: Lawrencetown, Halifax, NS
Additional Notes: I lost my dog in the Lawrence town area. She is a yellow lab cross, her name is Layla, She is old and friendly has no teeth.
#NSLostDogNetLayla
Please Contact: …