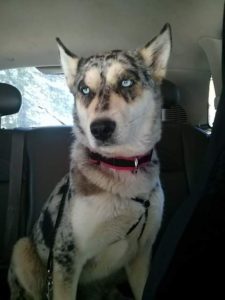 Shiloh
HAPPY ENDING: Home, Safe n' Sound! Yeah!! We thank all that cared and shared. Gorgeous Shiloh is back with her family. " She's safe…thanks everyone <3" (11.9.18 – 11.10.18)
Breed or Mix: Husky / Australian Shepherd
Sex: Female, Age: 5 Yrs
Collar/Tags: Wearing a collar with pink name tag with phone number . Also microchipped .
Lost on: 11/09/2018
Area: (Last seen on…) Peppet St at 50-16 Clifford St, North Sydney, NS
Additional Notes: She was last seen on Peppet Street North Sydney and a SPCA van was close by.
Called Spca but they said she's not there and will call if she goes there.
#NSLostDogNetShiloh
Please Contact: Please cross post and if you have any information contact: Carol at … or Shannon at …