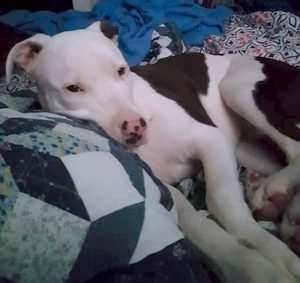 Luna
HAPPY ENDING: Home, Safe n' Sound! Yeah!! Her family worked hard in horrible weather to find her and left out some of their clothing. It was so windy, they had to tie it to a tree. Sure enough, sweet Luna was found sleeping under the clothing this morning. She's home safe! Thanks so much to all who cared and shared her info. YIPPEE!!! (11.14.18 – 11.15.18)
Breed or Mix: AmStaff
Sex: Female, Age: 6 Months
Collar/Tags: Black collar/no tags
Lost on: 11/14/2018
Area:  Grand Mira South, Cape Breton, NS
Additional Notes: Her name is Luna shes 6 months old – she got outside in Grand Mira South up in the woods. She was wearing a black collar – No tags. Shes white with brown spots. Spotted nose.
We were walking all day with our other 4 dogs in the woods when she got spooked (by the wind?).
Hoping she might smell and follow but shes not used to being up here (as) we are visiting.
She is a bit shy or skittish and may bark at you. Please report any sightings immediately.
#NSLostDogNetLuna
Please Contact: Please cross post and if you have any information contact: Roy (Destiny is the Owner) at …