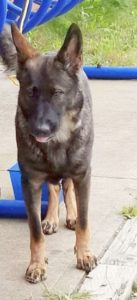 Unknown
HAPPY ENDING: Home, Safe n' Sound! Yeah!! This lovely dog's family has been found thanks so much to a neigbhour who recognized her. Thanks to those who got her to safety and HRM Animal Control for keeping her safe. She has been reunited with her family. Yeah! Thanks to all who cared and shared her info. Yeah!!
Breed or Mix: German Shepherd
Sex: Sex Unknown, Age: Adult
Collar/Tags: Chain collar/No tags
Found on: 10/17/2018
Area:Herring Cove, Halifax, NS
Additional Notes: This beautiful German Shepherd was found in Herring Cove and turned over to Halifax Animal Control.
Please Contact: Please cross post and if you have any information contadt: HRM Animal Control at 311