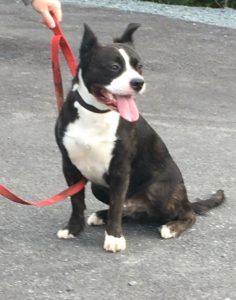 Unknown
HAPPY ENDING: Home, Safe n' Sound! Yeah!! The owners dropped by the Vets yesterday and picked up their pup. Thanks so much to the kind people that brought this pooch to safety and to Clayton Park Vets for reuniting this cutie with his family. Thanks as well to all who cared and shared his info…YIPPEE!! (10.1.18 – 10.1.18)
Breed or Mix: Boston Terrier/Collie mix
Sex: Male, Age: Young Adult
Collar/Tags: Black collar. No tags. No microchip.
Found on: 10/01/2018
Area: Clayton Park, Halifax, NS
Additional Notes: Male dog found outside mainland commons NS dog park. West ridge drive. Around 5 pm. Dog was caught and brought to Clayton Park vets. No microchip. They do recognize him. But not sure of his owner.
Please Contact: Please cross post and if you have any information contact: Clayton Park Ve at 902-443-4345