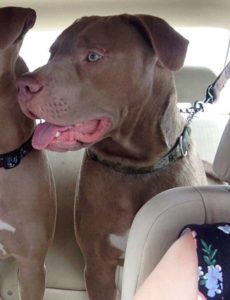 Conway
HAPPY ENDING: Home, Safe n' Sound! Yeah!! From his very happy family: "Thank you so much to everyone sharing! With the word out and all the neighbours watching, Conway has been found! And is home safe with his boy!" That's the best news…Yeah! Thanks to all who cared and shared his info. YIPPEE!! (9.12.18 – 9.12.18)
Breed or Mix: AmStaff / Weimaraner mix
Sex: Male, Age: 1.5 Yrs
Collar/Tags: Green camo dog paw print collar with red rabies tag.
Lost on: 09/12/2018
Area: Pine Grove, Colchester, NS
Additional Notes: Short hair, red in colour. White markings on his chest and front feet. Neutered and microchipped (but haven't sent in the forms to go along with the chip yet). Weighs 77 pounds. Very very friendly, belongs to a 6 year old little boy. Laid back and not very energetic. This isn't like him, not a runner at all. Was let out to the bathroom as per usual and did not return. Last seen at 11am, we started to worry after 15 minutes.
#NSLostDogNetConway
Please Contact: …