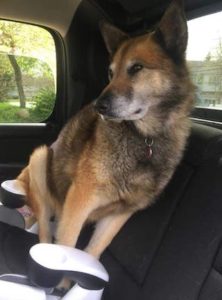 "MILEY" Actual Photo of Lost Dog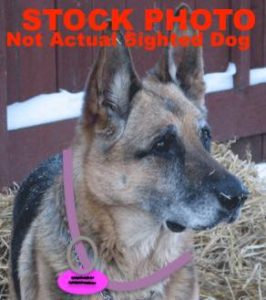 Miley
HAPPY ENDING: Home, Safe n' Sound! Yeah!! Thanks to sightings being reported immediately, her family and some helpful strangers were able to corner her in a ball field…and the bacon made her realize it was okay. Smart girl Miley. Thank you to all who reported sightings today, went out searching for her, and all our followers that cared and shared her info. It works! YIPPEE!!
Breed or Mix: German Shepherd mix
Sex: Female, Age: Senior
Collar/Tags: Pink or Faded Red Collar/Bright Pink Bone Shaped Dog Tag
Sighted on: 09/08/2018
Area: Dartmouth, Halifax Co., NS
Additional Notes: We have now heard from Miley's family and she is no longer an "Unknown" Sighting of a roaming dog, she is a Lost Dog named Miley. Her family is desperate to get her to safety and back home. FROM HER FAMILY: "Last seen heading to Shubie Park
Hi! Lost. Please keep an eye out for shepherd mix in Lancaster subdivision. She got away from doggy sitter near penhorn and may have been spotted around chapters, potentially trying to cross highway and possibly now enroute to her old home on South Ridge circle. "Miley" is tagged and microchipped. Thank you! "
#NSLostDogNetMiley
LAST SIGHTING INFO: A roaming and scared German Shepherd is in flight mode (running from people, very scared – Do Not Chase) and was first sighted by the Penhorn Transit Terminal and headed towards Baker Dr intersection and last seen on Hwy 118 between Mic Mac Mall and headed into Shubie Park via the Shubie Canal Greenway Corridor near Lakeshore Park Terrace where it eventually ran into the woods. She was wearing a pink or faded red collar with distinctive bright pink bone shaped dog tag. She was a senior, with a greying face and thin body.
Please Contact: …