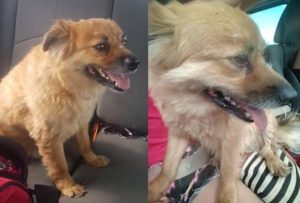 Unknown
HAPPY ENDING: Home, Safe n' Sound! Yeah!! From Max's new Friends: " So glad the owner is found. I'm returning the lil guy to his owner tomorrow." So great that this sweetie was rescued off the busy highway and now will be safely heading home. Thank you to all the folks involved, those that tried to get Max, those that did, folks that connected with the owner and finder… all wonderful. Thanks to all who cared and shared his info…it works! YIPPEE!! 
Breed or Mix: Pomeranian mix
Sex: Male, Age: Adult
Collar/Tags: No collar/tags
Lost on: 08/31/2018
Area: Shubenacadie/Stewiacke, Hants, NS
Additional Notes: Found: Stewiacke – Shubenacadie Hwy 102/ Between Exit 9 – 10/ Hants
MALE: Pomeranian mix, adult, rust coat, some black shading on ears, some greying on muzzle, not wearing a collar. Found roaming on Aug. 31/18.
Please Contact: …