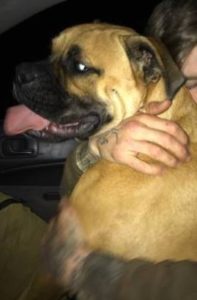 HAPPY ENDING!! Happy to be home!
Caine
HAPPY ENDING: Home, Safe n' Sound! Yeah!! We thank the sighter for contacting us about seeing 'Caine' so we in turn could post. "Our pup was found safe and sound thanks to you guys and Animal Control!! We'd like to thank you so much Caine was terrified and is very happy to be back home with us!" (5.23.18 – 5.24.18)
Breed or Mix: Boxer mix
Sex: Male, Age: Adult
Collar/Tags: No collar/tags
Sighted on: 05/23/2018
Area: South Branch, Colchester, NS
Additional Notes: MALE: Boxer mix, tan coat, white blaze on chest, dark around muzzle, long tail, not wearing a collar, very skittish. Sighted roaming on May 23/18.
Please Contact: …