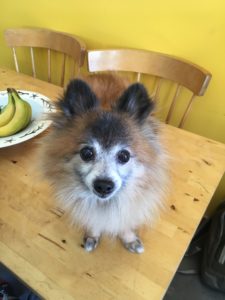 A HAPPY ENDING for Peppe (above)… He's home and ready to be spoiled rotten!! YEAH!!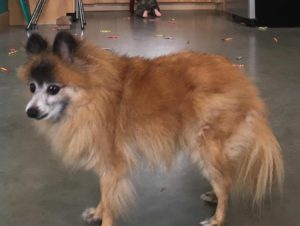 Peppe
HAPPY ENDING: Home, Safe n' Sound! Yeah!! From his extremely happy Mom:"We are over the moon to announce that Peppe has been found! A family in Lake Echo rescued him from the highway and he was safe with them until today when I went to pick him up. Thank you to everyone who helped look for Peppe, who put up posters and shared on social media that Peppe was missing. He is home and having all the snuggles and treats he wants!!!!!" Thanks to all who cared and shared his info, but also those that created posters and flyers and headed out to search for him. Just fantastic news. YIPPEE!!! (4.3.18 – 4.10.18)
Breed or Mix: Pomeranian
Sex: Male, Age: Senior
Collar/Tags: Black harness
Lost on: 04/03/2018 (about 4:30 pm)
Area: Lawrencetown, Halifax, NS
Additional Notes: Sweet Peppe got separated from his family while walking along the Stoney Beach just below MacDonalds Tea House and the Surf Shop in Lawrencetown. (Halifax side of the hill.) He is a senior who could be anywhere by now, so please keep an eye out for this little man and share his info, thank you.
Please Contact: …