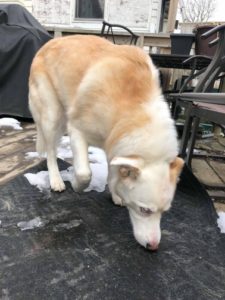 Unknown
UPDATE: Monday, March 12, 2018: This dog escaped it's finders and is roaming once again as far as we know. We are changing this post from FOUND to SIGHTED. Hopefully it got back home safely, but since we don't know, please share this dogs info in hopes of helping. Huskies! Amazing escape artists! Thank you.
Breed or Mix: Husky mix
Sex: Unknown, Age: Older Adult
Collar/Tags: No collar/tags
Sighted on: 03/12/2018
Area: Windmill Rd at Elmwood Ave, North End Dartmouth, Halifax, NS
Additional Notes: This dog was nearly hit by cars on Windmill Rd. It was being kept safe for a while but was able to escape once again and as far as we know is still roaming. Very friendly and very submissive dog. Please share.
Please Contact: Please cross post and if you have any information contact: Halifax Animal Control by dialing 311
SaveSave