Actual photo of "Miel" (in the middle) who has been found and is now safe: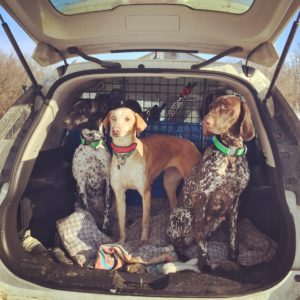 Unknown
HAPPY ENDING: Home, Safe n' Sound! YEAH!! From her very happy family: "Thank you everyone!!! What a great network " Thanks so much to the first person that alerted us to this roaming pup and all the sightings…they help so much. Thanks to all who cared and shared her info as well. YIPPEE!! (3.15.18 – 3.15.18)
Breed or Mix: Whippet (mix?)
Sex: Female, Age: Adult
Collar/Tags: Collar
Sighted on: 03/15/2018 at 12:40 pm
Area: , Cowie Hill, Halifax, NS
Additional Notes: The witness saw the woman walking the dog in Long Lake Park, she was having a problem getting her friends dog back on leash (the dog is afraid of people when spooked). The witness believes it was a female but not 100% positive. Ten minutes later the same witness saw this dog running down the top of Cowie Hill Rd towards Herring Cove Rd. This was across the parking lot at Halifax Water Commission and down towards Herring Cove Rd. The person walking the dog may still be searching in the park and is not aware that the dog has crossed over Northwest Arm Drive.
Please Contact: Please cross post and if you have any information contact: Halifax Animal Control by dialling 311