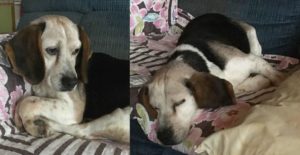 Unknown
HAPPY ENDING: Home, Safe n' Sound! Yeah!! Home is a NEW FUR-EVER HOME – Thanks to the all the kind people that got this dog to safety. And thanks to the local Animal Control that looked for his owner and ultimately found a wonderful new home for this sweet senior to spend their last years. Thank you to all who cared and shared this sweetie's info. YIPPEE!!
Breed or Mix: Beagle
Sex: Female, Age: Senior
Collar/Tags: No collar/tags/chip
Found on: 03/13/2018
Area: Labelle, Queens, NS
Additional Notes: FEMALE: Beagle, senior, black, white and tan coat, face mostly light tan with some white shading, not wearing a collar. Found roaming on March 13/18. Thank you to the finders for keeping this senior safe and warm, especialy with the approaching storm.
Please Contact: …
SaveSave