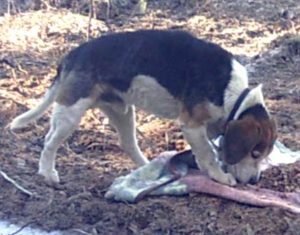 Unknown
HAPPY ENDING: Home, Safe n' Soun! Turns out this is TJ, a rabbit hound/Beagle that has been missing for 2 weeks. We were thrilled when the owner, with the help of Jellybean's family were able to catch TJ and get him to safety. Thanks to all who cared and shared his info…YIPPEE!! (2.07.18)
UPDATE: 2.22.18 – This is TJ and his owner has been alerted  – they are working together with Jellybeans family to get him home safely. Please continue to share as any sightings are still important. Thank you!
Breed or Mix: Beagle
Sex: Male, Age: Older Adult
Collar/Tags: Dark collar
Lost on: 02/21/2018
Area: Upper Kennetcook, Hants, NS
Additional Notes: This roaming dog which has been sighted many times lately was thought to be lost beagle Jellybean until game camera photos set up at a comfort station showed not only different colouring, but that this dog is actually a male. Jellybean remains missing. All efforts are being made to capture this dog to get it to safety and hopefully back home. It has been sighted many times along the woodlot roads off of Rhines Rd, King Rd and Georgefield Rd – Between Miller's Corner – Upper Kennetcook – Georgefield, Hants Co. Please share this dogs info so it's family knows he's out there and will hopefully be safe and home soon. Thank you. And thank you to Jellybean's family for helping to get this dog to safety. Awesome!
Please Contact: …