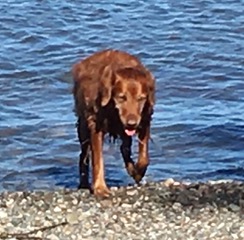 Chico; Chicito; Cheeks
Breed or Mix: Golden Retriever (Dark red)
Sex: Male, Age: 12.5 years
Collar/Tags: Red collar with marker noting his name and owner's cell; also a tag with home phone and cell phone (owner is away so call cell)
Lost on: 01/18/2018
Area: 32 Seabright Lane, Harbour Centre, Antigonish, NS
Additional Notes: Chico is a senior citizen (12.5yrs) with a sweet disposition. Will lean into you to be petted. His muzzle is pretty grey now. And he has some white markings on his chest. He has a michrochip linked to our old Ottawa addresses and hopefully stll his tag with his name and my cell and our NS home phone but we are away. So cell number is best.
Please Contact: Please cross post and if you have any information contact: Susan at 613-291-9793,
Brianne at 902-318-0238, or Barb at 902-863-1269.
SaveSave
SaveSave