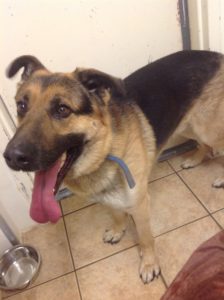 Unknown
HAPPY ENDING: Safe n' Sound! Yeah!! This beauty will be up for adoption via Homeward Bound City Pound shortly…looking for his new fur-ever home. Thanks so much to all those who got him to safety and HBCP for keeping him safe. Thanks also to all who cared and shared his info. (1.15.18 – 2.12.18)
NOTE: 1.15.18 – This is NOT Kreiger, the German Shepherd missing from Beaver Bank, thank you though.
Breed or Mix: German Shepherd
Sex: Male, Age: Adult
Collar/Tags: Blue collar
Found on: 01/15/2018
Area: Mineville, Halifax, NS (A little west of Exit 18)
Additional Notes: Found running on Hwy 107 a little west of Exit 18, Mineville. He is a German Shepherd, male, no tags, no microchip. He was taken to Eastern Shore Vet Hospital and is now with HRM Animal Control at Homeward Bound City Pound.
Please Contact: Please cross post and if you have any information contact: HRM Animal Control by dialling 311 or Homeward Bound City Pound at 902-407-7283