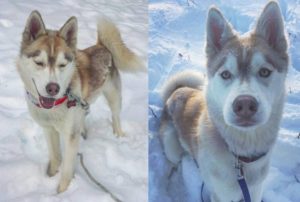 Ella
HAPPY ENDING: Home, Safe n' Sound! Yeah!! From her very happy family: "Ella's coming home tonight!!! I'm so happy. Thank you so much for posting her!" Thanks so much to all those that cared and shared her info. YIPPEE!!! (1.29.18 – 2.9.18)
UPDATE: Possible Sighting: 2.1.18 – There has been a possible sighting of Ella in the Lower River area. Please share again with this new information, thank you.
Breed or Mix: Siberian Husky
Sex: Female, Age: 1 Yr
Collar/Tags: Dark red and black collar with red name tag
Lost on: 01/29/2018
Area: …
Additional Notes: FEMALE: Siberian Husky, 1 year old, red coat, wearing a dark red and black collar with a red name tag. NAME: Ella She went missing on Jan.29/18.
Please Contact: …
SaveSave