As dog owners, we look to products like the iota GPS Tracker to provide backup security for our dogs containment system, whether we have a fenced yard, use a tether or we boundary train our dogs. Most of us want something that is going to give us good coverage, have long battery life, and is affordable. There are a variety of trackers now available, however, it looks like the Iota Tracker is hitting the most marks on the dog owners "must have" list.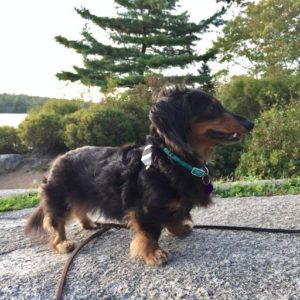 Willow, my 9lb dog sporting the iota Tracker on her harness
The iota Tracker is small enough and light enough to fit almost any size dog. My 10 lb dogs wear theirs on their harness's. The iota has a long range of 1 to 4 miles; using both GPS and Bluetooth to track your dog. It's rechargeable battery will last from a few weeks to a few months depending on use. It's price is mid-range at $199 with no 'extra' charges like a lot of the cheaper trackers that require a monthly service fee and/or cellular costs.
Beyond that, the Iota is also waterproof, as in submersible. That's a plus for all the Lab and water-loving-dog owners. However my dogs, if they had it their way, wouldn't even have rain touch their "iota's". It's durable and securely attaches to your dogs collar or harness. And the entire system; the tracker, the home base and the free app, are easy to set up and use.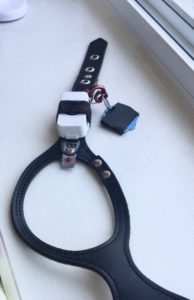 The iOta Tracker on my dogs harness
Typical of iota, they promised when I bought my system to upgrade the software to include an activity monitor. True to their word, I can now set goals and monitor my dogs' activity levels. Tracking my dogs activity level throughout the day may help with early diagnosis of any health problems as well. These are the kind of extras that makes iOta a great all around product.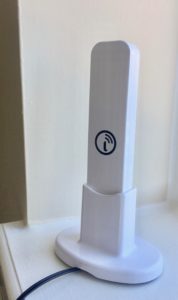 The iota Tracker Home Base
The iota home base gives you 1 to 4 miles of coverage. Wow! That beats any Bluetooth option with an average coverage of about 100 feet. Also, it is half the price of the cheapest hunting dog quality GPS system (which are bulky, have an antenna sticking up and aren't available for every size dog.) The iota Tracker smartly included Bluetooth with their GPS tracker, making it easier to pinpoint a dogs location. This kind of thinking that really makes the iota Tracker the best value for your money.
PROS
Uses GPS/Radio Freguency with a 1 – 4 mile coverage around your home base
Virtual Fence – Alerts you when your dog leaves the area, and can ring to help find your dog or to use in training
Long Rechargeable Battery life – a few weeks to a few months
Small and light but durable. Waterproof, even submersible
Attaches securely to your dogs collar/harness
Free App that is easy to use, and sharing the App with friends extends coverage via Bluetooth tracking
Monitors dogs activity
Works in the background of other home bases, potentially extending your coverage
iota Base Station – small with a sleek, modern design
No Monthly fees
CONS
No GPS coverage outside of the 1 to 4 mile range (think hiking) until other base stations are running in your area which may or may not happen.
Cost is mid-range at $199 which can be discouraging or unattainable for some dog owners
The iota tracker itself is white – rather noticeable (Having small dogs I just say it's their battery pack!)
May not be durable enough for large breed dogs rough housing ("Crunch!")
The iota Tracker helps to keep your dog safe at home and while walking in your neighbourhood. It does not give you GPS coverage outside of the home base range of 1 to 4 miles (without more home bases covering your area). This means that hiking with your dog outside of your neighbourhood will depend on the Bluetooth only coverage, no GPS. Statistics do show that the majority of dogs that end up lost have escaped from their home. This is probably due to dogs being left on their own while on their own property as opposed to being with their owner on a walk.
The iota is not the most expensive GPS tracker with 'hunting dog quality' trackers starting around $400. But it's not as upfront affordable as the $50 Bluetooth trackers. However, you can't beat that there are no monthly fees. The base station is a great, modern design but the tracker, which does complement the base station, ends up standing out on the collar. Simply offering a black option would solve this problem.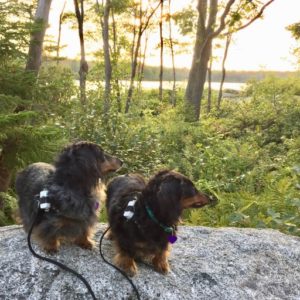 The Ladies sporting their iota Trackers or 'batteries'
Overall, the iOta GPS Tracker is still my favourite dog tracker available. The pros out weigh the cons for me, but every dog owner is different. I'm impressed with the company getting so much technology into this small box, a lot of bang for your buck. So far they are true to their word with upgrades. And in places like San Francisco iota Tracker owners are living the dream knowing the entire city is covered with home base's. Check out the coverage map on their website to see how this option is spreading.
No product or money was given in exchange for this review. I bought and paid for my own product.
SaveSave