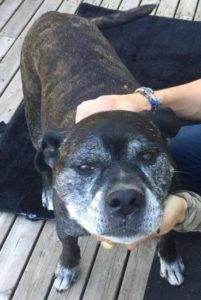 Unknown
HAPPY ENDING: Home, Safe n' Sound! Yeah!! From his new friends "Just letting you know that his owner picked him up! Thanks!" Wonderful news. Thanks so much to all who cared and shared. YIPPEE!!
Breed or Mix: AmStaff mix
Sex: Male, Age: Senior
Collar/Tags: Collar/No tags
Found on: 09/02/2017
Area:  New Minas, Kings, NS
Additional Notes: MALE: AmStaff mix, senior, brindle coat with greying around muzzle and face, greying on paws, wearing a collar, no tags. Found roaming on Sept, 2/17.
Please Contact: …
SaveSave