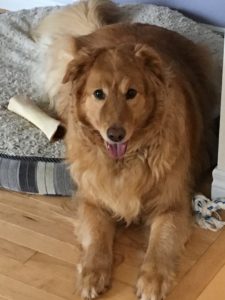 Penny
HAPPY ENDING: Home, Safe n' Sound! Yeah!! We thank all that cared and shared. "We found Penny!! That big neon sign works!!!! Thank you so much! I can't believe you are all volunteers!!!" (7.22.17 – 7.23.17)
Breed or Mix: Golden Retriever Mix
Sex: Female, Age: 8
Collar/Tags: Multicolour nylon collar with pink bone shaped tag. Tag has contact info and her name.
Lost on: 07/22/2017
Area: Lower Sackville, Nova Scotia, NS
Additional Notes: Penny is very scared of the dark, fires, fireworks and loud noises. She is probably shaking and hiding somewhere. She is very friendly and docile. Long fluffy golden coat with a smaller head and ears.
Please Contact: …
SaveSave