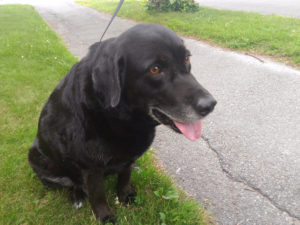 Unknown
HAPPY ENDING: Home, Safe n' Sound! Yeah! this sweetheart has been reunited with her family. Thanks so much to the kind people that got her off the dangerous roads and to safety, and to all who cared and shared her info. YIPPEE!! (7.11.17 – 7.11.17)
Breed or Mix: Labrador Retriever
Sex: Female, Age: Older Adult
Collar/Tags: Not wearing a collar
Found on: 07/11/2017
Area: Wolfville, Kings Co., NS
Additional Notes: Older black lab mix spotted trotting down the sidewalk …, Wolfville (near Acadia University) at approximately 8:40am this morning.
Followed the dog and made contact just around the corner on … Dog was not wearing a collar. Dog was calm and friendly, so we were able to slip a leash on her.
Dog was clean, and appeared to be well cared for. She didn't pull much on lead and knew the command "sit". Greying muzzle, with salt-and-pepper fringe on her back toes and knees.
We took her to my wife's office and contacted the SPCA; officers picked her up at approximately 10am. The dog was transported to the Kings Co. SPCA branch.
Please Contact: …