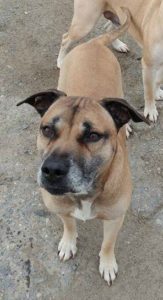 Tazz
HAPPY ENDING: Home, Safe n' Sound! Yeah!! From his very happy family: "5 days missing , my boy found his way home this morning at 430am. Reeks is over the moon to have his brother back and my heart is now happy again , Thanks to everyone who shared and kept a eye out for my boy ❤❤" That's the best news… Sweet Tazz is back home, Yeah! Thanks to all who cared and shared … YIPPEE!!! (6.29.17 – 7.2.17)
Breed or Mix: AmStaff mix
Sex: Male, Age: Adult
Collar/Tags:
Lost on: 06/29/2017
Area:  Newcombville, Lunenburg Co., Halifax
Additional Notes: Missing from Garber Rd area( newcombville) since this morning ,Male Amstaff, let the both of them out to pee this morning …. very unlike him to leave the yard. Very friendly , gets along with other dogs , kids etc. If you see him PLEASE contact me via Facebook or Phone … . He goes by Tazz ❤ He's the one with the darker face .
MALE: AmStaff mix, adult, tan coat, dark black ears, dark shading with grey on muzzle, white blaze on chest, white tips on paws, friendly. NAME: Tazz He went missing on June 29/17.
Please Contact: …