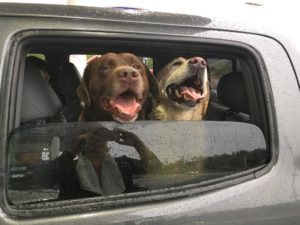 HAPPY ENDING: Found running on Hwy 107…big smiles from the boys!

Angus and Sutter
HAPPY ENDING: Home, Safe n' Sound! Yeah!! From their very happy owners: "We have them!!! Thank you to everyone who shared and went looking! They managed to travel almost 30km since 8:30 this morning. They'll be good and tired today!" Thanks to all who cared and shared their info…YIPPEE!! (10.2.16 – 10.2.16)
Breed or Mix: Labs
Sex: Male, Age: Angus 9 Sutter 6
Collar/Tags: Both have tattoos but no collars
Lost on: 10/02/2016
Area: West Chezzetcook, Halifax Co., NS
Additional Notes: MALE: Labrador Retriever, 9 years old, blond coat,tattoo, no collar. NAME: Angus MALE: Labrador Retriever, 6 years old, chocolate coat, tattoo, no collar NAME: Sutter. Both went missing on Oct. 2/16.
Please Contact: …