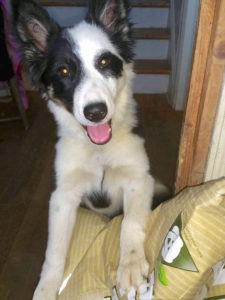 HAPPY ENDING!! 
Kate or Katie
HAPPY ENDING: Home, Safe n' Sound! Yeah!! This little girl was so thrilled to see her doggy Momma and all her family she practically 'turned herself inside out'. Thanks to those that cared and shared her info, she's back home … YIPPEE!!! (7.9.16 – 8.9.16)
Breed or Mix: Border Collie
Sex: Female, Age: 3 months old
Collar/Tags: No collar
Lost on: 07/09/2016
Area: Gaspereau Mountain, Kings Co., NS
Additional Notes: Kate is a 3 month old border collie pup with a patch on one eye. Black and white with white tip on her tail , white feet, a black patch on her chest. Medium coat. Small and sweet. She was playing with her mom this morning and they went on an adventure. Mom came back but Kate hasn't yet. Please help me find her. Share on fb. Thank you.
Please Contact: …