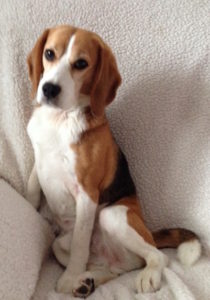 Raj
UPDATE: 8.11.16 – Raj is still missing. Please share again and if you have any information of any kind or have leads/sightings please contact his family immediately. Thank you.
Breed or Mix: Beagle
Sex: Male, Age: 5 yrs
Collar/Tags: No collar, but is microchipped
Lost on: 06/02/2016
Area: 665 Upper Brookside Rd, Central North River, Colchester Co., NS
Additional Notes: Raj is a very anxious dog who got away when a family member was looking after him for the day on June 2nd. Raj will probably run away when called and need to be coaxed out of hiding so please check under decks and other possible hiding places around your home. He is very food motivated but is very shy of strangers. He was sighted beside the road a couple of times in June but we haven't heard anything else since. Please contact me with his location and I will come to try to coax him out. Thanks.
Please Contact: Please cross post and if you have any information contact: Kelly at 902-897-1440 or Andrew at 902-986-8622