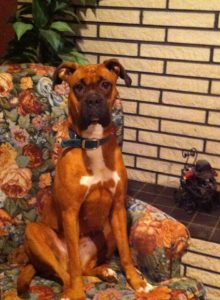 Laylah
Breed or Mix: Boxer
Sex: Female, Age: 5
Collar/Tags: Her collar and tag were left behind..
Lost on: 06/10/2016
Area: 121 McIntyre Lane, Glace Bay, Cape Breton, NS
Additional Notes: She is a "fawn" Boxer, her colors consist of brown, white and black. She is mostly brown on her body with white under her chin, down the front of her neck and across her chest. She has white on her toes and her face is black. Her hair is short and smooth, she is also missing her left top canine tooth. She has a beautiful personality and is very high energy, she loves hugs and lots of attention. It should be noted that she is not dog friendly, she has a fear aggression and will lash out at other dogs. She was on her leash and collar in the back yard, her collar is very thick fabric and it buckles like a belt. She was left unattended for approx. 10 mins and when she was checked on she was gone. Her leash was still intact, her collar was unbuckled.
Please Contact: Please cross post and if you have any information contact: Monica at 902-849-5832 or Mickey at 902-317-5655 or Ruth at 902-842-1074