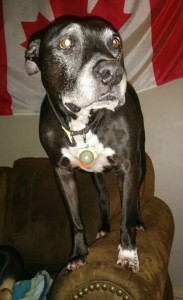 Dozer
UPDATE: 3.30.16 – No Tags: Dozer's tags were found below the deck. So he must have gotten them stuck between the boards and lost them before he went missing. He is microchipped however and will probably still have his collar. Please keep sharing, thank you.

UPDATE: 3.29.16 – Possible Sighting: " Found out there was a possible sighting on Saturday March 26th down by the Milford train tracks where he retreated into the woods. Hoping this is him. Could be anywhere around the milford/lantz area!!!!! Praying he is found soon!! This boy is being missed by many"

UPDATE: 3.26.16 – R E W A R D Offered for the safe return or info leading to the safe return of Dozer.
Breed or Mix: Black Lab/AmStaff Mix
Sex: Male, Age: 8
Collar/Tags: Brown leather collar with brass rings 2 tags. 1 tag for elmsdale animal hospital and 1 for 24hr pet watch.
Lost on: 03/19/2016
Area: 28A Endale Drive, Elmsdale, Hants, NS
Additional Notes: Smooth, short hair. Black with a white chest and some white on his paws. He is microchipped, and very friendly. He and my other dog were lost in the enfield region together for sometime. She was found alone walking down the street on Carriage Lane in the community of White Estates in Enfield. He'd walk into someones house or car if invited.
Please Contact: Please cross post and if you have any information contact: Evan at 902 223 4463 or April at 902 412 9375 or Breagh at  506-262-0268