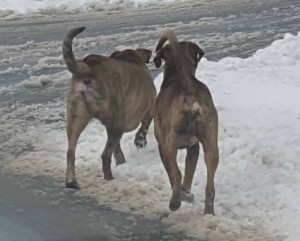 Unknown
HAPPY ENDING: Home, Safe n' Sound! Yeah!! 
We thank the sighter for notifying us and Animal Services. We thank Janeen for assisting and getting this boys safely back home! Great Job! (3.5.16 – 3.5.16)
Breed or Mix: Mastiff Mixes
Sex: Male, Age: Adults
Collar/Tags: No collar/tags
Sighted on: 03/05/2016
Area: Dartmouth Rd., Bedford, Halifax, NS
Additional Notes: TWO Mastiff mixes, brindle coats, Sexes Unknown, not wearing collars. Sighted roaming on March 5/16.
Please Contact: …