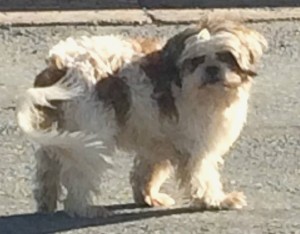 Unknown
HAPPY ENDING: Home, Safe n' Sound! This dog is home and safe. Thank you for caring and sharing his info. No one learns about Responsible Dog Ownership through negative comments, criticism, or harsh judgements. Understandably dogs bring out our most passionate side. Thank you for all the comments and suggestions, this post is now closed for comments.
Breed or Mix: Shih tzu Mix
Sex: Male, Age: Older Adult
Collar/Tags: Unknown
Lost on: 02/19/2016
Area: Lancaster Dr., Herring Cove, Halifax, NS
Additional Notes: MALE: Shih Tzu or mix, adult, white and tan. Sighted roaming on Feb.19/16 and many times before.
Please Contact: Halifax Animal Control Services, novascotia@lostdognetwork.com by dialling 311 and choosing 5 from the options