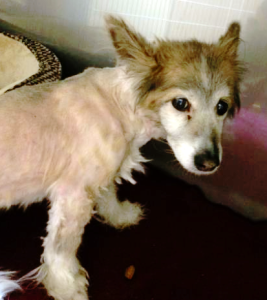 Unknown
HAPPY ENDING: Home, Safe n' Sound! Yeah!! From Matt Woodman at CTV: "Good news! The owners of this rescued 12yo dog have come forward and are picking her up @CTVAtlantic story at 6 " WooWhoo!!! Great News! Thanks to the kind folks that alerted authorities to this dogs pleas for help, to the amazing RCMP who rescued this dog out of an icy pond, to Emergency Metro Vet Clinic for giving her the A-Okay, and Homeward Bound City Pound for keeping her safe. Thanks also to the kind folks that took the time to care and share her info… Yippee!!! (2.10.16 – 2.12.16)
Breed or Mix: Sheltie Mix
Sex: Female, Age: Senior
Collar/Tags: No collar/tags
Found on: 02/10/2016
Area: Hwy 7, Lake Echo, Halifax, NS
Additional Notes: A HUGE Thank You goes out to the Halifax RCMP for going above and beyond (Brrr…) to save this sweet senior dog: Shortly after midnight on February 10, 2016, Halifax District RCMP responded to a call from a concerned citizen regarding a distressed dog on Highway 7, Lake Echo.
…officers were able to locate a small dog in a partially frozen pond. The dog would not move and it was unclear if the dog was injured or stuck in snow and ice. An officer entered the pond and rescued the dog who was placed immediately into a patrol jacket, used as a blanket.
Officers immediately transported the dog to the Metro Animal Emergency Clinic in Dartmouth for examination. It was determined that the dog was an approximately 10-year-old female Sheltie mix who had been on its own for some time. There was no collar or microchip to identify the dog and the favouring of her hind leg was related to arthritis.
For more on this story: https://www.facebook.com/rcmpns/photos/a.10150310339344779.340151.206153899778/10153462551639779/?type=3&__mref=message_bubble
This dog is now safe with Homeward Bound City Pound. It had to be shaved due to the mats and debris stuck in it's fur probably from being lost for a long period of time. If it's owners are not located it will be adopted out, but not for at least another two weeks. There is a long waiting list of potential adopters. For now, please share so we can try and find it's owners, thank you.
Please Contact: Please cross post/share and if you have any information contact: Homeward Bound City Pound at 902-407-7283, Halifax District RCMP at 902-864-6000, or Crime Stoppers at 1-800-222-TIPS (8477 ), texting TIP202 + your message to 'CRIMES' (274637), or by Secure Web Tips at www.crimestoppers.ns.ca