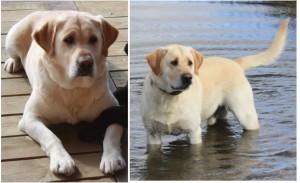 Shackle
Update: 1.5.16 – From his Family: "Highly likely that Shackle was last at Conrod's Beach and we are hoping he was picked up there." Please contact the family immediately with any information, thank you.
Breed or Mix: Yellow Lab
Sex: Male, Age: Adult
Collar/Tags: Did not have collar on, has ID microchip
Lost on: 01/02/2016
Area: 491 Conrod Beach Road, Head of Chezzetcook, Halifax, NS
Additional Notes: We miss our yellow lab, Shackle. He ran into the woods on
Saturday, Jan 2, 2016, around noon. He went off without his collar. He has an
ID chip. He is very gentle and friendly.
If you have seen him around please call us at our house in Lower East
Chezzetcook, close to Conrad beach.
NOTE: He does have distinctive marks that make him very easy to identify.
Please Contact: Please cross post and if you have any information contact: Harm at 902 827 1343, Cell: 902 412 3435 or 902-494-2342