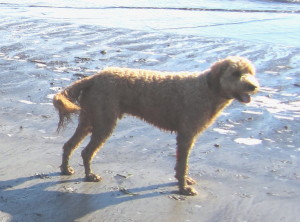 Murphy
HAPPY ENDING: Home, Safe n' Sound! Yeah! We thank all that cared and shared. PAWSOME News. "FOUND! He is home safe and sound! Thank you all so much!" (1.15.16 – 1.15.16)
Breed or Mix: Golden Doodle (Medical Condition)
Sex: Male, Age: 6 yrs
Collar/Tags: Wearing a collar with his name and phone,
Lost on: 01/15/2016
Area: Petite Rivière Bridge, Lunenburg Co., NS
Additional Notes: As we were leaving the house this morning at 8:30, Murphy had a seizure of some kind and then started running. The Vet said he would slowly come out of it but would be disoriented. He is very friendly but does not always get along with German Shepherds.
Please Contact: …