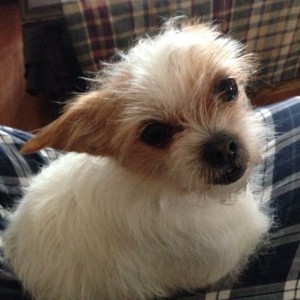 Oscar
HAPPY ENDING: Home, Safe n' Sound! Yeah!! We thank all that cared and shared. Special WOOF out to the finder who kept Oscar safe and got him into the care of Homeward Bound City Pound. We are happy to be a small part in helping this happy reunion! "I have my one excited happy puppy back!! Thank you so much everyone and Sarah for finding him!! (11.8.15 – 11.16.15)
Breed or Mix: Jack Russell Mix
Sex: Male, Age: 8
Collar/Tags: He's wearing a black collar no tags.
Lost on: 11/08/2015
Area: Lone Cloud Island, Miller Lake, Halifax, NS
Additional Notes: Oscar is a male jack Russell mix no bigger than a cat. He is white with brown patches. his hair is short and his skin under his hair looks almost like a spotted cow hide.
He's very lovable but hates bigger dogs.
On Sunday November 8th. 2015 my family and I where on Camp Lone Cloud (an island on Miller Lake in Fall River) getting the Scout Camp closed up for the winter, our puppy loves going out there with us to run around. Sometime before 3pm he went missing when he didn't come when we called his name before leaving. We look for 3 hours before dark and returned to look again that night and everyday and night for the rest of the week. We left food, water and a cabin open with his blanket and nothing was touched.
Please Contact: …