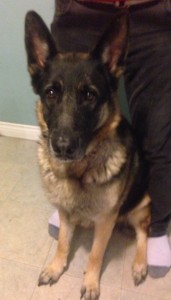 Unknown
HAPPY ENDING: Home, Safe n' Sound! Yeah! We thank all that shared. We send a special WOOF out to the finders that kept him safe. Sweet Shadow is back home. (11.17.15 – 11.19.15)
Breed or Mix: German Shepherd
Sex: Male, Age: Adult
Collar/Tags: Blue collar, no tags
Lost on: 11/17/2015
Area: Main St., Cherry Brook, Halifax, NS
Additional Notes: My husband found what looks to be a purebred male German Shepherd, wearing a blue collar but no tags.
He is very friendly, doesn't bark or jump up, doesn't mind our cat at all, is very sweet natured and docile.
He doesn't seem to know any commands, or at least any of our commands.
Please Contact: …