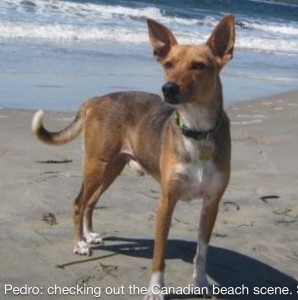 Pedro
HAPPY ENDING: Home, Safe n' Sound!! Yeah!! Well, Pedro will be home in the morning after a friendly stay at Homeward Bound City Pound. So thrilled this dog is safe and will be headed home. Thanks so much for all your help by caring and sharing this sweeties info. Well done! Yippee!!
Breed or Mix: Cuban Beach Dog
Sex: Male, Age: 6
Collar/Tags: Camo haltie and Citronella collar
Lost on: 09/11/2015
Area: Point Pleasant Park Area, Chain Rock Dr., South End Halifax, Halifax Co., NS
Additional Notes: Pedro was being walking in Point Pleasant Park when he ran off. He was last seen along Chain Rock Dr. just outside PPP. He lives on FULLER TERRACE and may be trying to make his way home. Brown in color. Short haired.
Please Contact: …