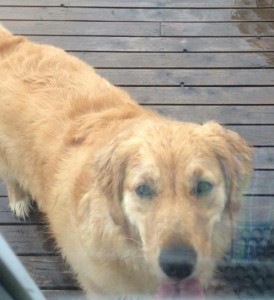 Quinn
HAPPY ENDING: Home, Safe n' Sound! Yeah!! From her Family: "Quinn,the 3 1/2 year old golden retriever is home. Thank you so much. Your resources are tremendous and are very helpful." And thanks to all who took a moment to care and  share Quinn's info… Wonderful news! (9.14.15 – 9.15.15)
NOTE: Quinn was hit by a car on Braemore Ave., and was last sighted on Hawthorne and Annie's Bluff. 
Breed or Mix: Golden Retriever
Sex: Female, Age: 3.5 yrs old
Collar/Tags: Blue collar with tags
Lost on: 09/14/2015
Area: Antigonish, Antigonish Co., NS
Additional Notes: Was hit by a car. Is hurt, but is very friendly.
Please Contact: …