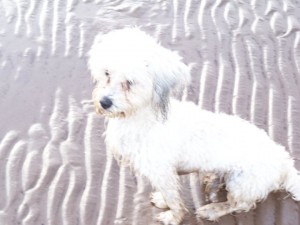 Louie
HAPPY ENDING: Home, Safe n' Sound! Yeah!! From his Family: " Thank you for this site. I found good information here. Louie was found a few km away with good people safe and sound." Thanks so much to all who cared and shared. YIPPEE!!!! (7.1.15 – 7.5.15)
Breed or Mix: Shih tzu/Terrier Mix
Sex: Male, Age: 5
Collar/Tags: No tags/ collar
Lost on: 07/01/2015
Area: Sherbrooke, Guysborough, NS
Additional Notes: On Canada day our door was left open when we went to celebrations. When we returned Louie was missing.
Louie is friendly,white,curly haired,shaggy/ long haired.
Louie was in the process of being groomed, So his tail and paws are tangled with matts, but the rest of him is freshly cut. We have checked around the community and no one has seen him. Any one with information can call, or text OR Contact Buds Quick Way in Sherbrooke. $$$$ REWARD OFFERED FOR SAFE RETURN$$$$$ *** The photo is a little out of Date, he hasn't had a photo since his fur was cut. PLEASE HELP!!!!!
Please Contact: …