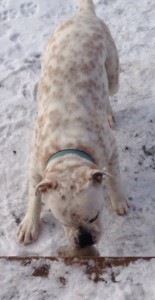 Jake
HAPPY ENDING: Home, Safe n' Sound!! Yippee!! We thank all that cared and shared! "Jake has been found. He was about 3km away from home and a lovely family found him this morning and warmed him up and fed him." (3.11.15 – 3.14.15)
Breed or Mix: Valley Bull Dog
Sex: Male, Age: 10 months
Collar/Tags: Blue and Black collar. With key ring. Tag fell off.
Lost on: 03/11/2015
Area:  Nine Mile River, Hants, NS
Additional Notes: Jake is hyper 10 month old who has never really left our yard let alone the street. He's very playful and jumps when new people are around. He has a bull dog nose with a few folds. One eye is black lined and the other is pink. His fur looks like a brown and white Dalmatian.
Please Contact: …