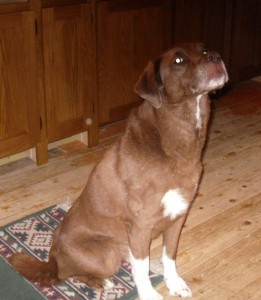 Jerry (Bobo)
HAPPY ENDING: Home, Safe n' Sound!! Yippee!! We thank all the cared and shared. "Jerry is home. I found him this evening while out on my evening search! Thanks for all!" (1.27.15 – 1.29.15)
Breed or Mix: Chocolate Lab/Pointer Mix
Sex: Male, Age: 6-7 years old
Collar/Tags: Brown leather collar, metal tag with red boarder.
Lost on: 01/27/2015
Area:  Saltsprings, Pictou, NS
Additional Notes: Chocolate brown fur. White socks on front feet. Some white patches on chest and belly. Extremely friendly dog. Good with cats, dogs and children. Will approach strangers – never aggressive. Reward offered. Please call if there is any information or leads available.
Please Contact: …