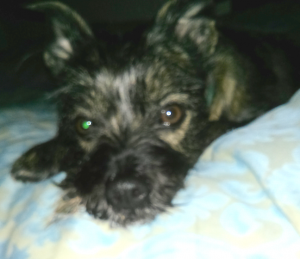 Daisy, Days or Daisy Duke
HAPPY ENDING: Home, Safe n' Sound! Yeah!! Daisy is back home, thanks to all the folks that shared her info and connected the dots to get her back home. Yippee!! (11.4.14 – 11.8.14)
Breed or Mix: shes half pitbull half terrior. she looks more like a terrior.
Sex: Female, Age: 4  Months (puppy)
Collar/Tags: Green Collar and Tag
Lost on: 11/04/2014
Area:  Highway 277, Carrolls Corner, Halifax, NS
Additional Notes: daisy is a dark brown with tan brown spots. she is smooth and kind of long haired in some spots just the way she gets her hair cut. shes wearing a green collar with a tag on it. I lost the papers with the number on it so iam not sure what the number is cant remember. she got out the door and ran off. haven't ate in days been raining for two days. shes not good with the cold worried she might be dead or very scared maybe hiding under something.
Please Contact: …