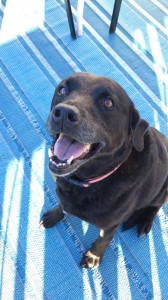 Digger or " Diggs "
Breed or Mix: Black Lab
Sex: Female, Age: 13 years old
Collar/Tags: She is wearing an old reddish collar ( Faded) and our address and phone number are written on it.
Lost on: 10/23/2014
Area: 58 Atlantic View Drive, Lawrencetown, Halifax, NS
Additional Notes: She is a good dog, very friendly and mild mannered. She is black, with white hair under her chin and neck.
Please Contact: Please cross post and if you have any information contact: Kevin or Carla white, kevinandcarla@eastlink.ca 902 465-7894