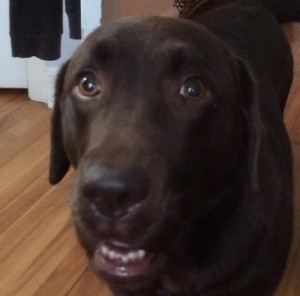 Ellie
HAPPY ENDING: Home, Safe n' Sound! Yippee!! We thank all the cared and shared. "Thank you for all your help Ellie was returned this morning. We followed all your directions and they saw our signs." (10.31.14 – 11.1.14)
Breed or Mix: Chocolate Lab
Sex: Female, Age: 6
Collar/Tags: No Collar but is microchipped
Lost on: 10/31/2014
Area: Tower Road, Halifax, NS
Additional Notes: Ellie is a chocolate brown lab with yellow eyes. She is super friendly and loves to greet people out on the street. She has short hair. She is microchipped but is not wearing a collar tonight.
She has a limp if she walks or runs too much.
She was in our yard and somehow got out this evening and was seen running toward Point Pleasant around 7 p.m.
Please Contact: …