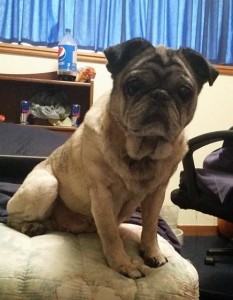 Unknown
HAPPY ENDING: Home, Safe n' Sound!! Yippee!! Thanks goes out to the Finder for getting this dog to safety and keeping it comfy until her family was found… Yeah!! Thanks to all who cared and shared her info… Terrific! (10.26.14 – 10.27.14)
Breed or Mix: Pug
Sex: Female, Age: Senior
Collar/Tags:
Lost on: 10/26/2014
Area: Tim Hortons, Herring Cove Road, Halifax, NS
Additional Notes: The dog I found, Gretta is what I call her, has smooth light tan fur with grey all throughout it. Her face is dark grey, obviously aged. She has black ears and her tail curls up over her little butt. Her eyes are big and black, and they don't look as if they're in the best of shape. She's a very friendly lap dog, stays by your side when you're outside with her and sits on your lap as soon as you take a seat. She can't seem to get up and down the stairs very well at all, I've had to carry her. By the look of her belly, it seems she's had puppies at some point.
I found her while I was at work, at the Tim Hortons that's connected to the Ultramar on Herring Cove rd. It was around 1am, and she was walking all over the road and in the drive thru. I went and got her and now she's safe with me!
Please Contact:…