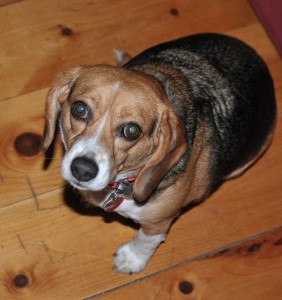 Chloe
HAPPY ENDING: Home, Safe n' Sound!! Yippee!! From the Owner: "FOUND!! She is in Chester Basin. I am picking her up tomorrow morning. Thanks everyone." (9.2.14 – 9.2.14)
Breed or Mix: Beagle/Chihuahua Mix
Sex: Female, Age: 6
Collar/Tags: Pink collar. Heart-shaped tag with her information on it.
Lost on: 09/02/2014
Map: 
Area: Highway 332 Lunenburg, Lunenburg, NS
Additional Notes: Chloe is a beagle/chihuahua cross. She looks like a small beagle with the bug eyes of a chihuahua. Her tail sticks straight up and has a white tip at the end. She is about 6 or 7 years old (we don't know because she is a rescue dog).
She is a kind and loving little dog, but can be a bit nervous.
Please Contact: …